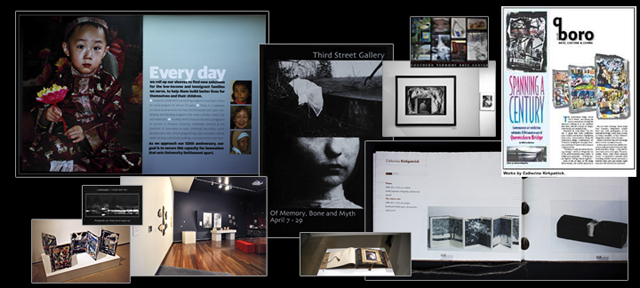 Catherine Kirkpatrick is an award-winning photographer, graphic artist and writer based in New York City. She has done work for Citibank, the Ford Foundation, Applied Semiconductor, Pianophoria!, and Literally Alive's original production of The Ugly Duckling. Her photographs have appeared in the Tulane Review and Camera Arts Magazine, and have been exhibited widely, including a 2002 group show at the United Nations. Her artist's books have been shown at the Leipzig Book Fair, the Seoul International Book Fiar and the Villa Borbone in Vioreggio, Italy. In 2012 she a regular (TV) camera person on the Sissy Gamache show.
You can contact her at catherinekirkpatrick1@gmail.com or 917-304-4354.
You can also visit her blog with links to her writing at www.photospire.org.
Honors & Awards Photography & Writing:
Article Sgt. Pepper Uncovered named to Photoshelter's Best Photography Blog Posts of 2011
Book Art Award, Inside/Outside – Book Arts, Foundry Art Centre, 2009
Simonds Award for Photography, Connecticut Academy of Fine Arts, 94th Annual Exhibition, 2005
Best in Show, Center for Visual Arts, Midwest Winter, 2007
Best in Show, Lewis & Clark Center for Arts & History, In Focus, 2001
1st Prize, Salmagundi Club 2007 Non-Members Photography Exhibition
1st Prize, Bloomingdale Museum, 2000 National Drawing & Print Exhibition
1st Prize, Art Assoc. Harrisburg School & Galleries, Printmaking & Graphics, Annual Exhibition 2000
1st Prize, Fredericksburg Center for Creative Arts, Home, 2001
1st Prize, Museum of Anthropology, American Visions, 2000
2nd Prize, Hunger Artist Gallery, November Guest, 2000
3rd Prize, Connecticut Academy of Fine Arts 95th Annual Exhibition
3rd Prize, Hunger Artist Gallery, Home, 2000
Honorable Mention, Professional Women Photographers' Int'l Open Call, 2012, juried by Mary Ellen Mark
Honorable Mention, Museum of Anthropology, American Visions, 2009
Honorable Mention, Las Vegas Arts Council, Faces of Woman, 2005
Honorable Mention, Baker Arts Center, Annual Juried Exhibition, 2007
Honorable Mention, Louisiana State University, Animals in Art, 2006
Honorable Mention, St. Louis Artists' Guild, Dark/Light, 2005
She has served on the board of Professional Women Photographers since 2009, and writes a blog on the experience of women in photography that appears on the PWP website. She is very proud to have been a member of the PWP Community Service Committee that won the 2010 Suzanne Pincus Commit to WIN Award from Women in Need for photographic services.