I have created presentations for Citibank, the Ford Foundation and Applied Semiconductor, and written many articles for Professional Women Photographers. One of these, Sgt. Pepper Uncovered, was named by industry giant PhotoShelter to its list of Top Photography Blog Posts of 2011. In 2012, I created 30 by 30, a blog series for Women's History Month. In it thirty women photographers spoke about the women photographers who inspired them. Interviewees included esteemed critic Vicki Goldberg, triple Pulitzer Prize winning New York Times photographer Ruth Fremson, and Carnegie Hall legend Editta Sherman. (Please note that in the migration to a new website, many lost their original formatting and picked up a few strange characters.) I was also a contributing editor to Imprints magazine.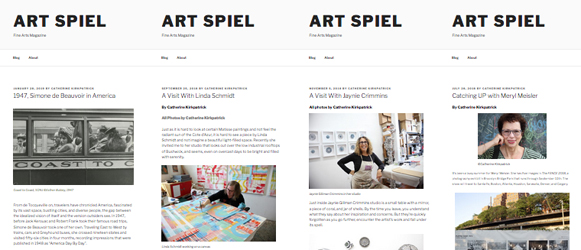 I'm currently a contributing writer/photographer to ArtSpiel.org:
Surface and Sky: Jeffrey Morabito at SFA Projects
BOS Spotlight: Yolande Heignen
Artist Without Borders: Catching Up With Jackie Neale
1947, Simone de Beauvoir in America
Catching Up With Meryl Meisler
I've also written articles for Arts in Bushwick, including Manic Need and Human Preserverance: A Photographer Looks Back, Many Roads to Here: The Art of Kyle Mumford, and The Journey and Art of Scott Dennis.
Here are links to various articles:
Zeke Berman: Thoughts and Pictures at an Exhibition
Fire, Ashes, Fear: Bushwick in the 1980s by Meryl Meisler
Dark Legacy, Points of Light: Photographers and Newtown Creek
Of Myth and Men: The Photography of Dianora Niccolini
Sid Kaplan: Scenes of the Unfolding City
BOV: The Life, An Appreciation of Dannielle Hayes
(and more...visit www.pwponline.org/blog and search for "Kirkpatrick")